Transform Enterprise with SAP Analytics Cloud (Start Digital Transformation with SAP Analytics Cloud)
Digital Transformation for Business:
Every business needs a roadmap for Digital transformation. Which involves fundamentally changing business operation, deliver value to customers and rethinking of business models. Finding the new ways to generate revenue and improve efficiency.
What is SAP Analytics Cloud?
It is the cloud solution that connects people, information, and ideas. It is tripped by artificial intelligence and compete with SAP compliance, security, and Data Protection Practices.
SAP Cloud Analytics is a best in providing Software as a Solution (SaaS) that combines all the analytics functionalities in one innate user interface and saving time. Those efforts making better decisions like Planning, Predictive, and Business Intelligence.
SAP Analytics Cloud helps to enable people to make better, faster, and more confident decisions.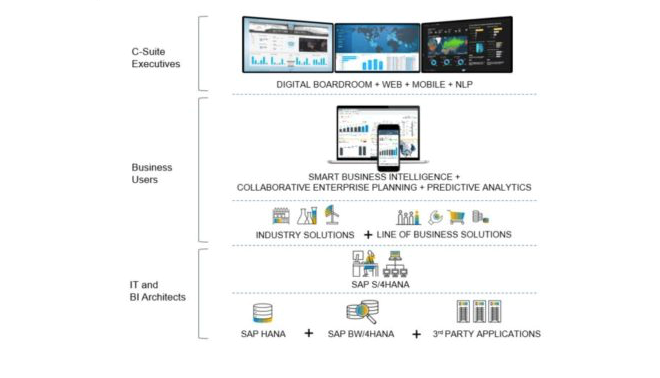 Differentiation of planning cloud solution to non-cloud solution:
The web-based nature of the application limits customization opportunities that might be necessary for more complex business requirements.
SAP Analytics Cloud features numerous pre-configured interfaces for external data sources (particularly SAP data sources), the interfaces will be slower and less integrated compared to desktop-based planning solutions connected to on premise databases.
SAP aim to be the cloud company powered by SAP HANA. The software should be present in the market for some years from now and SAP Cloud Analytics is not the exception as it is build on SAP S 4HANA Cloud Platform.
It is slowly upgrading the flagship product SAP EPM suite. The main feature of SAP Analytics Cloud as the Digital Boardroom.
SAP ANALYTICS CLOUD PLANNING
SAP Analytics Cloud application design consists of models which are the foundation for data exploration. Consists mainly of measures & dimensions, models provide a framework for data visualizations in the stories.
Stories are where we analyze the data. It's where we build our charts, tables, graphs, and use other data visualization tools to tell the story of the business.
These models contain dimensions like hierarchical structures where organizations can manage their Organisational Structure and Accounts.
Types of models available in SAP Analytics Cloud architecture:
Planning and Analytics: Planning allows users to execute planning activities within the models.
Analytics allows user to perform analysis with the data gathered.
Models can create manually by importing file from computer, getting data from a cloud app such as Google Drive or Success Factors, or connecting with a data source such as SAP BPC, SAP BW, SAP ERP, SAP HANA or SAP Universe.
Analyzing the data is simple, Its by selecting the cells on the spreadsheet and then processing it with SAP Analytics Cloud to create a chart. The applications are helps to analyze the data and recommend the best way to visualize it. Those helps to modify the chart type, format. Finally share it by adding it to a presentation which can be fully  formatted to meet any requirements by brand.
On planning side, SAP Analytics Cloud allows its users to manage currency conversion tables, configure formulas for different accounts and allocations.
Multiple data scenarios can be worked on and managed at the same time. Users can create tasks and set up reminders to complete the process on time.
The Benefits of using SAP S/4HANA with SAP Analytics Cloud:
SAP S/4HANA is to manage all areas of their business as manufacturing, HR, sales, marketing, finance, etc.,
The Standard feature of S/4HANA includes embedded analytics. SAP Analytics Cloud as a separate analytics tool is available to help us.
SAP S/4HANA includes embedded analytics:    
It has its inbuilt embedded analytics tool. This tool enable users to interact with real-time data. It has forecasting capabilities that helps to predict and simulate. It helps to create business dashboards and reports where you can drill into transactional data to answer
ad-hoc questions and find insights about your business.
By bringing transactions and analytics both are in a single platform.
Data can import and converted into charts, graphs, and tables. With data visualizations, the extraction which means to help the inform data-driven decision making.
 Benefits of SAP Analytics Cloud with SAP S/4HANA embedded analytics.
Data on the go: While both SAP S/4HANA and SAP Analytics Cloud are deployed in the cloud, SAP Analytics Cloud has a mobile app for iOS. This allows to view and share the stories on mobile devices. Everything is secure on cloud network and data can be accessed anywhere.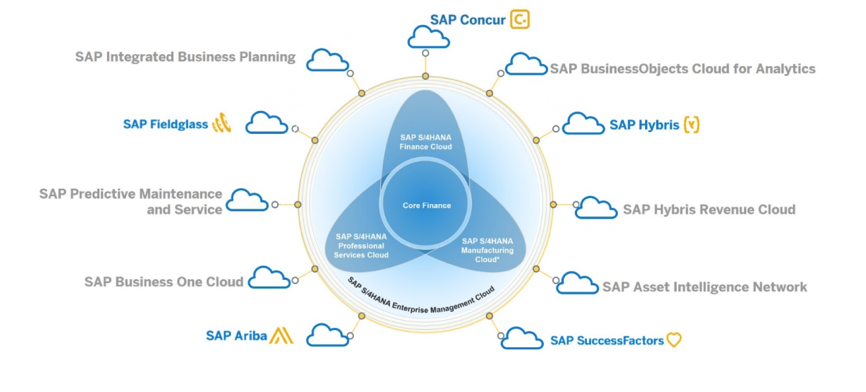 Integrating with datasources: SAP Analytics Cloud helps to pull the data from a host of SAP & non-SAP data sources to give a richer overview of business. This helps to analyze data from a number of datasources, including:
SAP Fieldglass
SAP Success Factors
SAP Ariba
SAP Concur
Salesforce
Modelling Capabilities of SAP Analytics Cloud:
SAC offers many modeling capabilities. More appropriate with SAP S/4HANA to customization and Control over data. Modeling capabilities allow to clean the data and get more accurate analysis. It helps to set the advanced formulas, aggregation, multi-level hierarchies, currency conversion, and fix errors on a large scale.
Live data connection: SAP Analytics Cloud connections allow live link to SAP S/4HANA that means any changes made directly to data in the source are reflected to SAC.
The benefit of connecting the data this way, helps data remains in the source system so we are not transferring large amounts of data. Any one of the existing models can be used directly by SAC to analyze, without replicating the data and visualization.  With the SAP Analytics Cloud connector, getting the most up-to-date information is a matter of hitting the refresh button.
Integrating Digital Boardroom: An add-on feature of SAP Analytics Cloud is SAP Digital Boardroom. It executes to transform meetings from static presentations to completely interactive discussions based on live data.
SAP Analytics Cloud Integrations:             
SAP Analytics Cloud is strategic analytics tool which we analyze, report and forecast business data of the enterprise applications. So, let us consider the enterprise application as S/4HANA Cloud.
Connecting SAP S/4HANA Cloud with SAC: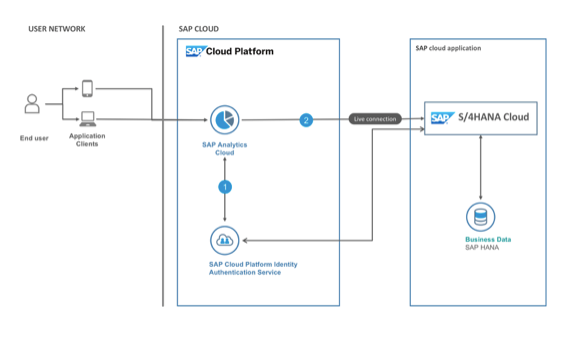 There are two options:
Data connection

Are available for cloud and on premise data sources
Replicate data within SAP Analytics Cloud
Create new data models through the SAP Analytics Cloud Modeler
Update data visualizations and stories when refreshed

Live connection

Are available for cloud and on premise data sources
Do not replicate data in the SAP Analytics Cloud
Use only existing data models for analysis.
Update data visualizations & stories with new data on real-time basis.
References 
www.sapanalytics.cloud
https://www.sap.com/india/products/cloud-analytics.html